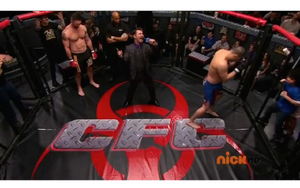 CFC is an American organization of Mixed Martial Arts. It is where Goomer has his big match in #GoomerSitting against John Zakappa. It is also an MMA fighting stadium at Los Angeles Sports Place. It is mainly used for big fights, and has lots of seats so plenty of people can watch.
Trivia
Fighters
Ad blocker interference detected!
Wikia is a free-to-use site that makes money from advertising. We have a modified experience for viewers using ad blockers

Wikia is not accessible if you've made further modifications. Remove the custom ad blocker rule(s) and the page will load as expected.