| | |
| --- | --- |
|  ! | This article is about the pairing Cat and Sam. For the television show, see Sam & Cat. |
Cat and Sam

General information
Shipped
Portmanteau

Sat, Cam, Puckentine, Valenett

Status

Roommates, Best Friends

Gallery (images · videos)
Cat Valentine and Sam Puckett are the two main characters of Sam & Cat, and they are best friends and roommates. The pairing of the characters is often referred to as Sat (S/am and C/at) or Puckentine (Puck/ett and Val/entine).
See Ariana and Jennette for the real-life pairing of Ariana Grande and Jennette McCurdy, the actresses who portray Cat and Sam, respectively.
Moments
Season 1
Becoming roommates!

Added by

DeeMoShow

While eating a burrito she purchased from a food truck, Sam watches Cat saving a cat from a trash can and then (standing in the trash can) getting lifted into a garbage truck. Sam sacrifices her burrito to save Cat.
Sam jumps into the garbage truck and saves Cat, and she repays her by letting Sam shower at her Nona's apartment.
Nona moves to Elderly Acres, leaving Sam and Cat to babysit three children. Sam and Cat realize that they've had a fun time together and have potential for more adventures, so they decide to become roommates.
Sam agrees that she will be Cat's roommate, even though she could have easily said no and gone somewhere else.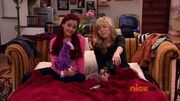 In #FavoriteShow, Cat is upset when they cancel her favorite show That's a Drag!, so Sam goes with her to the set of the show to try and stop them from cancelling it.
Sam dries Cat's tears and makes her laugh.
Sam risks getting in huge trouble by stealing the set of That's a Drag for Cat.
Sam and Cat work together to come up with plans to trick Dilben, which include getting Nona to pretend she's moving back in. When that proves impossible due to her sprained ankle they get Goomer to do it.
They come up with a huge plan just so that they wouldn't have to stop being roommates.
They risk being in huge trouble to stay together.
When Cat and Sam lost control of the five kids they took care of, Cat ran into her bedroom and Sam comforted her. 
Sam calls out "Marco" to find Cat, knowing she could find Cat that way.

She knew that Cat would reply with "Polo."
They were both wondering who was sabotaging their babysitting business.
Cat was on top of Sam at one point. Usually Sam would do something mean but instead she just informed Cat that she was on top of her.

Cat also breathed on Sam's neck, and bumped into her butt.

Sam doesn't criticize the name of their babysitting business. This was probably to avoid hurting Cat's feelings. All she said to Cat was that it was too long.
Sam forced everyone in the room to listen to Cat's poem.
Sam and Cat help Dice to make Goomer's mom not find out he's a Mixed Martial Arts fighter and not a High School teacher, like his mom thinks he is.
Sam and Cat pretend to be Goomer's students when Goomer and his mom are at Bots.
Sam and Cat convince Sikowitz to use his classroom for Goomer.
They briefly hold hands.
When Goomer finds out he can stay after beating up thugs and hugs Dice, Cat hugs Sam, but Sam reminds her that she's not a hugger.
Sam and Cat starred in a commercial together.
They both seem to be fond of Opee.
They both help Dice keep Opee, and went together to find a replacement dog.
Before Gwen and Ruby came in Sam and Cat were bumping butts. 
When they were watching 'Celebrities Underwater' (with Dice and Goomer) Sam and Cat were sitting close to each other. At one point, Sam jumps even closer to Cat.
When they finally realized that Gwen and Ruby were behind everything they both ran home to apologize to each other. 
They worked together to trick Gwen and Ruby.
In the end they are seen together smiling, laughing, and jokingly walking in slow motion. 
Sam allowed Cat to hug her.
Even though Sam was really mad at Cat, she never actually hurt her, and instead took her anger out on a parking meter, pulling it out of the ground.
Sam was on top of Cat when she found out that her motorcycle was missing.
Sam looked worried when she got back to the apartment to find Cat asleep, hancuffed to Hector.
Sam seemed impressed when Cat tackled John Zakappa.

Sam also looked impressed when Cat screamed 'shut up!' at Hector.

Cat held on to Sam's arm when they were watching the security camera feed at Bots.
They worked together to find Sam's motorcycle.
Cat goes through Sam's closet and when Sam finds out what Cat is doing in there, she doesn't mind.
Cat puts her arm around Sam when they find the secret room.
They spend a lot of time together in the secret room, with just the two of them.

Sam doesn't get annoyed at Cat even though they were locked in a room together for a while.

Sam seems pleased with Cat when she tells her about Sloppy Waffles.
Cat shouts 'shut up!' at Dice which could be a sign that she is picking up a few traits from Sam.
Sam lies to Cat about her nose, possibly so Cat doesn't get worried.
They eat Sloppy Waffles together at the end of the episode.
Cat got excited when Sam liked her idea.
Sam teases Cat with the rotting taco.
They both jumped rope and ate Fruit Cocktail.
They both used the pee can.
Cat hit Sam's stomach in a friendly way when they were laughing.
Cat stood up to Sam by refusing to do what she wanted and Sam didn't get mad at her, she just brushed it off.
Sam grabs Cat's arm when she sees Clarice.
They grab onto each other's arms multiple times in the episode.
Sam looks surprised when Cat shouts at Mr. Drange.
Cat and Sam both went to a concert together. 
At the concert when the two boys made fun of Cat, Sam hit them with a weiner. 
Cat says "hallowiener" which made Sam laugh.
Halloween is on a Saturday so Sam calls it "Satur-ween".
Sam is upset when Cat leaves for her audition.
When Sam finds out that Peezy was mean to Cat, she went to confront him about it.
Sam was mad at Peezy for laughing at Cat.
Sam wasn't too bothered about her ping pong ball being squashed compared to how upset she was about Peezy being mean to Cat.
Sam says that Cat is her friend.
Cat is upset that Sam left her to be Peezy's assistant.
Cat is close to having a breakdown because she can't babysit without Sam.
This episode shows how much a team Sam and Cat are.
Sam seems very jealous to find that Cat got Mindy to help her babysit.
She also seems annoyed at Mindy and makes her go unconcious.
Sam and Cat's fight sounds a little like a married couple would fight.
Sam quits her job as Peezy B's assistant for Cat.
When Sam says 'are you two dating?' it looks a bit like Sam and Cat are holding hands.
They lean against each other and laugh at the cop.
Cat links arms with Sam.
They hold each other's arms.
Cat was initally worried when Sam told her that she was sick.
They trick each other.
Sam puts her hand on Cat's thigh.
Sam picks up Cat and carries her.
Cat does what Sam tells her to - e.g. drinking the sock water.
Sam knows that Cat has an A size bra
They dance together at the end of the episode.
Cat knew exactly how to calm Sam.
Cat restrains Sam several times throught the episode.
Sam tells Cat "You really get me." when Cat gives her a bat to release her anger. This shows Cat knows her well.
Cat gets worried about Sam drinking so much root beer, remarking "You've already had two this morning!"
Sam trusts Cat enough to show her the pineapple piggy bank.
Cat promised to make Sam a million meat balls if she helped find the other pink shoe.
Sam loves the meatballs Cat made.
Trivia
They seem to like each other and get along rather well, despite their strikingly different personalities.
Sam and Cat's friendship in Sam & Cat is similar to the relationship of Cat and Jade on Victorious, as Sam is sassy and abrasive like Jade and Cat is bubbly and eccentric. However, Sam's bad girl personality is less palpable than Jade's.
In an interview with the Huffington Post, Jennette McCurdy says "The relationship between Sam and Cat is very 'Odd Couple', and it proves that opposites attract. Cat's infectious behavior rubs off onto Sam, and they both end up getting along better than you think."[1]
As a piece of their favorite show, That's a Drag! Sam gets all the furniture from the show moved into their apartment for Cat because Cat was upset.
They sleep in the same bedroom.
Technically, Sam and Cat already met each other in the iCarly episode iParty With Victorious. However, Dan said they never really interacted in his fun facts.[3] However, Cat is aware of Sam's reputation from iCarly, which was pointed out in the Pilot episode after Sam saved her from the garbage truck.
Sam and Cat hug in almost every episode.
Although Sam was known to hate hugging in iCarly, she hugs Cat quite a lot.
Sam doesn't hurt or yell at Cat when Cat hugs her even though Sam doesn't like hugging.
They have both been to prison.
Cat often says Sam Puckle instead of Sam Puckett.
In #DollSitting, Sam dresses up like Cat for Halloween.[4]
Both have had an episode revolving around them doing something illegal in their original show (Cat was in The Great Ping Pong Scam and Sam had several including iWon't Cancel the Show and iOwe You)
Both have a favorite food they absolutely love. Sam loves Fat Cakes to the point of obsession and Cat loves Bibble to the point of an addiction.
Both Sam and Cat have been on top of the other at one point.
The term 'Puckentine' was made up by the Fanfiction.net user DemonDreaming.
Fanfiction
Songs
References