Rival Babysitting Service
Comments

3
272pages on
this wiki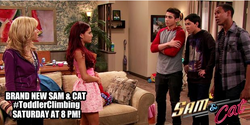 The Rival Babysitting Service which debuted in #ToddlerClimbing, were the anonymous person who wrote fake reviews about Sam and Cat's babysitting service on Snortch.com
Biography
They were a babysitting service who babysat toddlers only so they could use them in gambling tournaments for money. In #ToddlerClimbing, they tried to run Sam and Cat's babysitting service out of business by posting negative reviews on Snortch.com. They got shut down after Sam & Cat found out about their gambling scheme, thanks to undercover service by Dice.
Appearances
Trivia
Despite running a Toddler Climbing Tournament, they babysit kids of any age (shown when they babysat Dice).
They seem more focused on playing games than babysitting.
The address is 5677 Barfield Drive.